DPF Pressure Sensor
This is where things get froggy and one has to experiment to figure out what works for their truck.
Generally when using a code clearing device such as the Edge J/A or PMT the pressure sensor should be left electrically connected but with the hoses removed like this.
| | |
| --- | --- |
| | This image has been resized. Click this bar to view the full image. |
This is how I run with the old AG flash on my 07.5, I've run hundreds of mils without clearing codes and I've never seen a CAT FULL message or gone into derate mode.
Resist the temptation to connect the ports together as it can cause problems, if dirt is a concern hoses can routed up with little filters installed on the ends.
The 2nd way to do this is to unplug the sensor electrically (if you do this it really doesn't matter what you do with the physical ports) cover both connections with something to keep the elements out.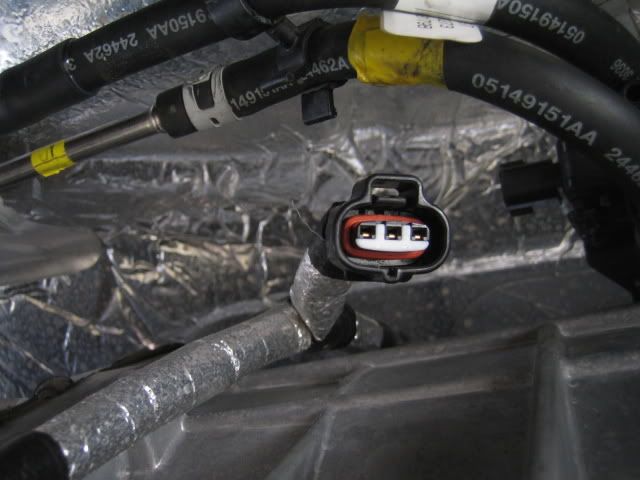 The downside to doing this is that it creates a 'hard code' that cannot be cleared with any of the usual code clearing mechanisms. It has been suggested that this might eliminate the CAT FULL messages and dinging on later flashes but will leave a constant CEL, I don't believe this will cause a derate.
Now for the DPF pressure fooler - this has allowed for 'code free' DPF delete operation on some trucks that do not have the EGR deleted, this has also eliminated the overhead CAT FULL messages and constant dinging on some trucks but the success of this mod seems to be related to which version of flash one has.
Parts required -
qty 1 390 ohm resistor 1/2 watt
qty 1 110 ohm resistor 1/2 watt
These can usually be found at Radio Shack but you might have to get the $6 grab bag of resistors to find them; if you got the grab bag for the EGT sim resistors then these values are probably in the bag.
Resistor color codes -
(The first 3 bands are most important and must match the pictures below) some have said that a 100 ohm will work in place of the 110.
Wiring -
Viewed as the plug is facing you while looking up at it.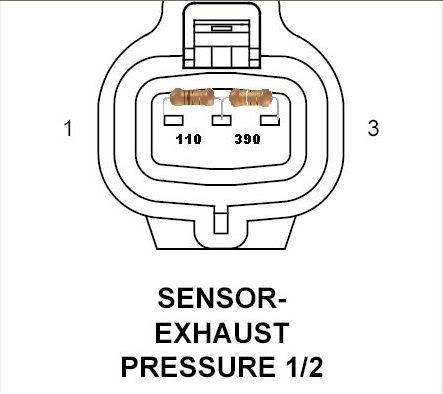 One must be creative when wiring this in, several folks on here are trying to source the connectors so that this can be done the correct way.